Buy ONEXOX Prepaid and get 28 months validity!
Get your ONEXOX Prepaid SIM Card registered and buy a Welcome Deal to enjoy 28 months validity
Choose preferred Welcome Deals and purchase via SMS within 10 days upon successful registration
You will receive 28 months validity immediately and be able to enjoy exclusive perks from XOX!
Flexible DA/MA Account
The more you reload, the cheaper the rate and the more MONEY you save with ONEXOX Prepaid duals accounts mechanism.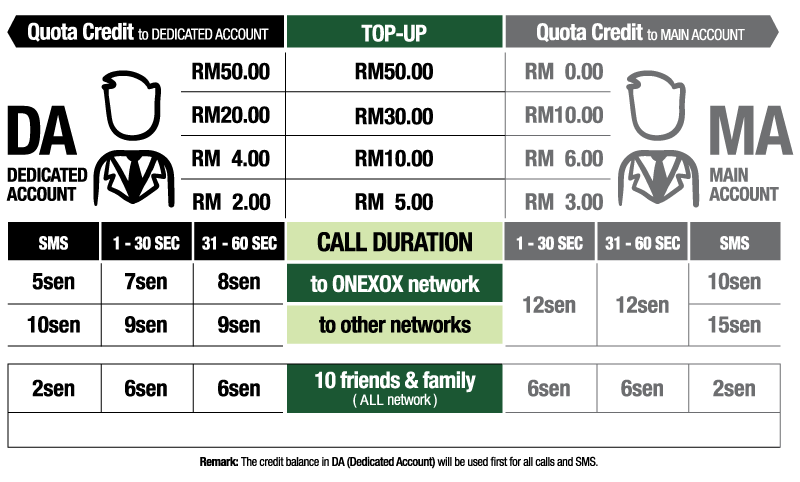 SP FAT 5M
RM

30

Per Month

10GB (Instantly Activated @ 30 Days)

+

100MINS (Season Pass)

+

28 MONTHS VALIDITY

Send SP FAT5M to 22111
SP FAT 10
RM

50

Per Month

10GB (Season Pass)

+

10GB (Instantly Activated @ 30 Days)

+

28 MONTHS VALIDITY

Send SP FAT10 to 22111
Ultimate 35
Recommended
RM

35

Per Month

ULTIMATE DATA (capped at 3Mbps under FUP)

+

UNLIMITED HOTSPOT

+

50 Mins (Season Pass)

+

28 MONTHS VALIDITY

SEND SP UNL35 to 22111
SP FAT 10M
RM

50

Per Month

20GB (Instantly Activated @ 30 Days)

+

333MINS (Season Pass)

+

28 MONTHS VALIDITY

Send SP FAT10M to 22111
SP FAT 20
RM

30

Per Month

20GB (Instantly Activated @ 30 Days)

+

28 MONTHS

VALIDITY

Send SP FAT20 to 22111